Spring's New Essentials, From Awesome Outdoor Gear To Kids' Fashion
The weather is (finally) warming up and we're getting prepped for a big spring, filled with outdoor adventures, new looks and fresh beginnings. Below, check out 2023's seasonal essentials.
FOR SPRING EXPLORERS
Hydro Flask's Oaxaca Color Drop
It's Oaxaca's time to shine. Not only was it named the No. 1 city in the world*, but the Mexico hot spot also served as the muse for Hydro Flask's latest seasonal color drops. This season, the leading hydration brand known for its bold and vibrant colors turned to Oaxaca to inspire a fresh Spring 2023 lineup. Drawing from the vibrant valleys and cloud-topped rain forests, new hues Mesa, Dew and Lupine embody the city's perfect light, ethereal colors and of course, course, adventure.
A Classic Refreshed By Red Wing Heritage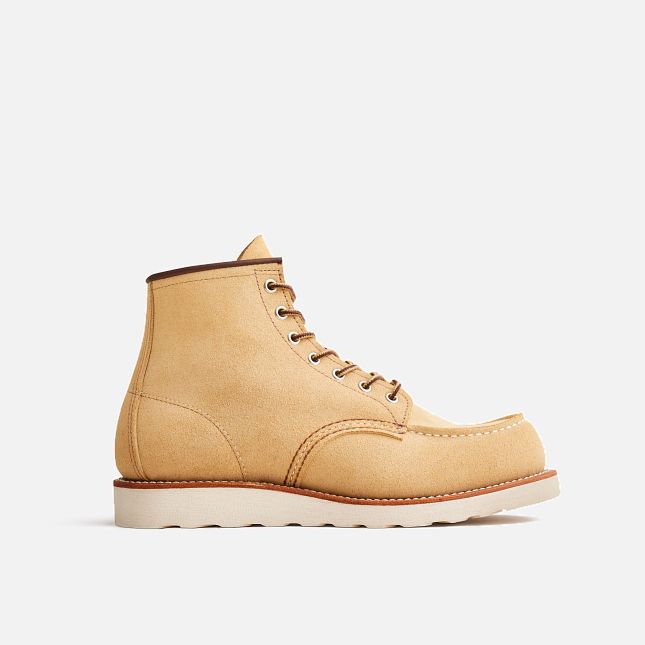 Just in time for spring, Red Wing Heritage's most iconic silhouette, the Classic Moc, is getting a seasonal refresh that draws inspiration from light and natural earth tones. The brand's best-selling boot will now be made with a unique, archival leather, first introduced by the brand in 1959: Hawthorne Abilene roughout leather. This is full-grain leather that utilizes the other side of the hide to create the textured material. It doesn't contain wax or oil, allowing for breathable comfort that transitions easily between the season's styles.
Leatherman's Little Tool With Big Benefits
Introduced in 1996, the Leatherman Micra® is the famed outdoor brand's most popular everyday mini-tool with anglers, hobbyists and those who can appreciate the best spring-action scissors around. And now, it's getting a refresh for spring 2023, releasing in four new colors: Arctic Blue, Black Cherry, Slate, and Navy. Personal care features that fit on your key chain are just part of what makes the Micra truly unique. Ten useful tools are packed into this tiny, lightweight Leatherman. Practical and perfect for a tackle box, pocket, purse, fanny pack, or sewing kit, the Micra makes a great gift for the outdoors lover in your life.
Topo Designs Gets Dirty
Topo Designs' ultra-sustainable Dirt Collection is specifically built to minimize the brand's carbon footprint and channel the essence of The New Outdoor. This spring, Topo fans will have new colors to choose from is bringing some new colors: Men's Dirt Short Sleeve Shirt – Sand; Men's Dirt Short – Sand, Dark Khaki and Charcoal; Women's Dirt Crew – Brick and Pond Blue; Women's Dirt Short – Light Mint, Pond Blue, Sand.
Duluth's Deep Roots
For all the green thumbs out there, Duluth Trading Co.'s newest gardening collection is rooted in ruggedness. It features super durable DuluthFlex ripstop nylon/spandex fabric, built-in UPF sun protection, tons of spacious pockets for all your equipment and crop and even a unique No Fly Zone technology finish that puts an invisible, odorless barrier between you and pesty bugs.
Osprey's Extension
Osprey, the Cortez, CO-based maker of high-quality, low-impact outdoor gear, is introducing a wider range of sizes (with extended hipbelts and longer straps) in these select styles:
Aether | Ariel: Beloved on the trail, the Aether™ | Ariel Series has continually set the standard for what a pack should do and what it should weigh. Today, the series has gone through a quarter century of relentless evolution and innovation to last a lifetime of trips.
Volt | Viva: This pack boasts an exceptional fit and a simple, clean design that experts and greenhorns alike can appreciate. Highly adjustable, the Viva is a workhorse, ready to tackle overnight weekends and weeklong trips alike.
Osprey Sportlite 25: Confidently step out on the trail with the Sportlite 25, one of Osprey's most minimalist technical day packs. Carry all of your essentials with the convenience of panel-loading design and simple, clean internal organization.
Talon 22 | Tempest 20: Whether you're bagging peaks or bikepacking, the Talon 22 is the perfect carry solution. This lightweight pack features a breathable, close-to-body AirScape™ backpanel and continuous-wrap harness and hipbelt that moves with you.
FOR DOG LOVERS
Native Pet, Because Health Isn't Just for Humans
Native Pet is an innovative pet supplement company, crafting supplements that harness the nutritional power of whole food ingredients. In an industry that has never prioritized the health of our pets, Native Pet is redefining the bar and holds true to its motto that "we're the voice of our pets and it's our mission to give our fur babies the best lives. Because our love language is dog, and dog is our native tongue." Delivering products that live up to its philosophy, the brand created the Native Pet Pact to offer transparency to its unwavering commitment to making a real difference in your pets' health. It states that:
Every Native Pet product is developed 100% in-house.
The brand will always choose the right forms and formats to ensure the highest level of efficacy.
Native Pet will never use fillers or additives and will target no more than five inactive ingredients (the industry average is 20).
Products will use human-grade, whole-food ingredients in each of its formulas.
Native Pet will never sell a supplement unless it is the best tasting product on the market.
Keep an eye out for a new product launching on National Pet Day, April 11!
FOR THE MODERN PARENT
BEABA's Latest Baby Solutions
Delivering unparalleled quality for parents, BEABA is changing the baby game as we know it.
Babycook® Express: Simple, sleek and speedy, the Babycook Express® helps make fresh, homemade baby food faster and easier than ever before, lending parents the hand they need so they can spend more time with their little ones. With a new express cooking mode and patented mixing paddle, you can now prepare food for your little one in just 15 minutes or less! This new and improved model also is eco-designed, using 23% less C02 emissions and only 30% water and electricity consumption when using the ECO function.
BEABA Bib'Expresso: Bottle prep has never been easier. With the Bib' Expresso® you'll have your baby's bottle ready in just 30 seconds. It heats water very quickly to your desired temperature (72°F or 98°F) and dispenses it directly into your baby bottle with the press of a button. The Bib'Expresso also features a removable & portable top compartment can be used as a water bath to heat up prepped formula bottles, bottles of breastmilk, or baby food jars.
BEABA Paris Diaper Bag: Sure to fit everything you and baby need, and then some. With multiple easy-to-access compartments and a beautiful color palette, this diaper bag will quickly become your go-to for days out with your little one. Highlights include a modern design, 10 interior and exterior pockets for all your essentials, multi-way carry capabilities, suitcase sleeve for easy travel attachment, a removable shoulder strap and cotton shoulder handle for added comfort, a changing mat, insulated pocket, and more.
Young Days
Young Days, the maker of affordable, ethical baby clothes created by real parents, is getting ready for warm days. Inspired by vintage and retro sportswear, the Young Days Spring Collection features on-trend and easy-to-layer styles that are essential for transitional dressing. Staying true to the brand's ethos of providing parents with sustainably designed, ethically produced and affordable clothing for babies and toddlers, the new collection includes Young Days' signature mix-and-match styles and expanded bestsellers, now featured in prints inspired by modern art and design with 1970s graphics and messaging.