4 New Social Media Tools + Features Brands Should Be Thinking About
Recent weeks have seen a slew of new and useful social media tools and features rolled out by the major platforms. Here's a quick primer on what they are and why brands should be paying attention.
TikTok For Business
WHAT: The fastest growing social media platform in 2020, just unveiled TikTok For Business, a global platform that offers an array of marketing solutions for brands. The goal here is to give marketers a TikTok toolbox that will give them the ability to be creative storytellers and meaningfully engage with the TikTok community. The platform doesn't want businesses to make ads — it wants them to make TikToks. These social media tools make doing so much easier.
WHY: The pandemic has seen TikTok's user numbers explode, with downloads surging past the 2 billion mark. Previously home to a largely Gen Z user base, the platform is seeing exponential growth among Millennials (and even Boomers), since those stuck at home are looking for new outlets of entertainment.
Instagram Reels
WHAT: Of course, as you may have read, TikTok is experiencing serious growing pains. The US government is considering banning the app due to national security concerns. Never one to miss an opportunity, Facebook is stepping in with its TikTok-like Instagram Reels feature. Using Reels, users will create 15-second videos set to music or other audio — pretty much like TikTok. Also similar to TikTok, the new feature offers a set of editing tools, such as a countdown timer and a way to adjust a video's speed. Reels has already launched in India, and it looks as though it'll go global in August.
WHY: With TikTok's future in doubt, Instagram Reels offers a way for brands to get in on the short-form video craze within an already well-established app. Obviously, users are craving this kind of content. With Facebook/Instagram getting in on it, the sky may be the limit.
Instagram Pinned Comments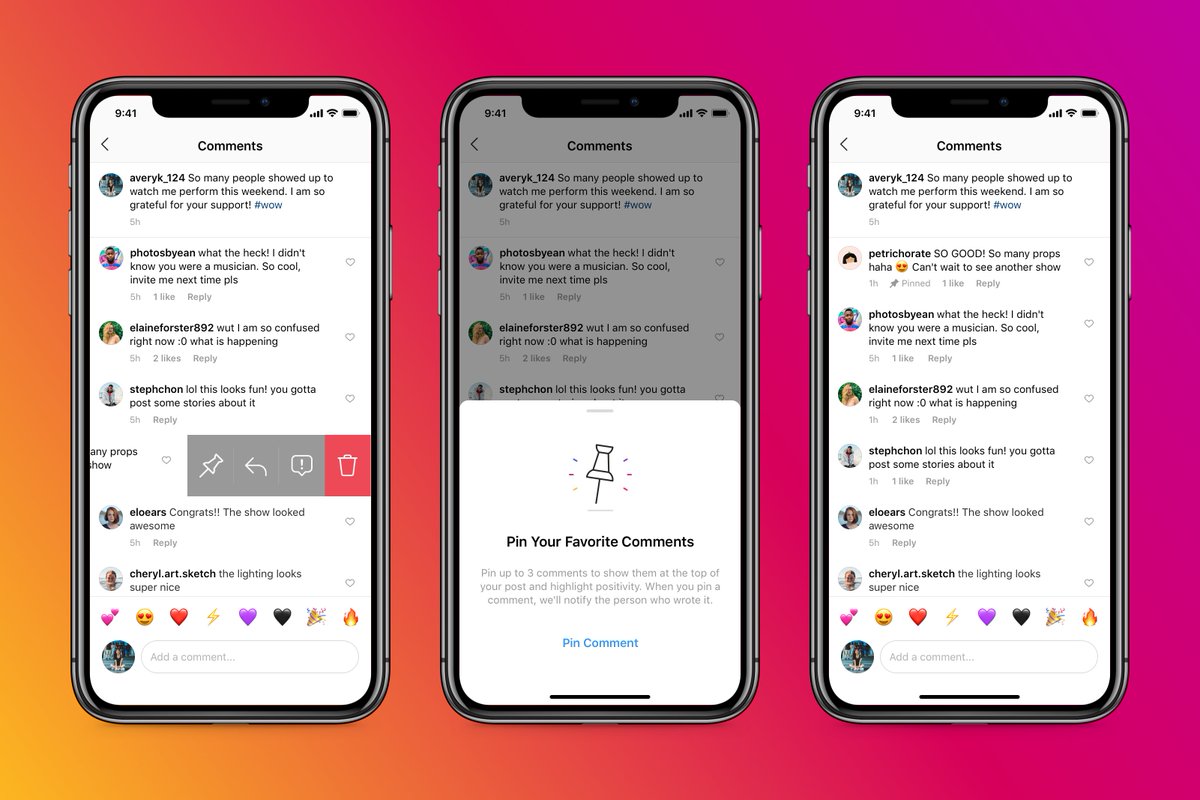 WHAT: In 2020, managing conversations on your Instagram feed is more important than ever. So say hello to Instagram Pinned Comments. It basically helps you set the tone for the kinds of conversations you'd like to encourage on a given post. The feature lets you pin up to three comments on a post to the top of a thread. It's an attempt on the part of Instagram to put the power of combating harassment and abuse in users' hands.
WHY: Often surprisingly, Instagram comment threads can turn negative and nasty. By pinning comments, you can drive the conversation in a more positive direction easily.
Snapchat Brand Profiles
WHAT: Brands have had a tricky time over the years finding their place in the fast-paced world of Snapchat. The new Snapchat Brand Profiles aims to make it easier. The feature offers a permanent home for brands on Snapchat. Brand Profiles are built around a specific brand's unique investments in the app. These include such social media tools as AR Lenses, native commerce stores, and content highlights. Brand Profiles bring these various brand experiences together into a single home, making it easier for Snapchatters to discover/revisit a brand's offerings on the platform.
WHY: Snapchat is one of the best ways to grow an authentic relationship with the platform's 229 million daily users — most of whom fall into the increasingly important Gen-Z and millennial demographic.
For TURNER insight in your inbox every Wednesday, sign up for the Weekly Download.