Seven New Hotels That Are Taking Hospitality To The Next Level
From the urban environs of Philadelphia to the breezy Caribbean shores of St. Thomas, discover some of the world's latest/greatest new hotels. 
The Ritz-Carlton, St. Thomas
Opening Date: November 22, 2019
The Caribbean — the U.S. Virgin Islands and St. Thomas in particular — is back as a top spot for travel in 2020. There's never been a better (or more important) time to visit. More than 70 percent of accommodations have reopened across the USVI with several more openings slated in the upcoming months. The most highly anticipated? The reopening of the iconic Ritz-Carlton, St. Thomas, which will welcome guests again on November 22, 2019, following a period of extensive enhancements and a full redesign. The all-encompassing $100 million project includes reimagined and redesigned public spaces, rooms and suites, event and meeting space, and a new culinary concept.
Hotel Carmichael
Opening Date: May 2020
Carmel, a Hamilton County, Indiana community, will get its first independent boutique hotel in May 2020 – just in time for the Indy 500. The 122-room luxury Hotel Carmichael, a Marriott Autograph Collection property, will feature a premier location overlooking the Monon Greenway and The Center for the Performing Arts. It's also just steps from the Carmel Arts & Design District with 4,498 square feet of meeting space, a full-service restaurant, outdoor seating, luxurious lobby bar, business center and fitness center. The hotel will have a musical influence woven throughout the guest experience, with 365 days of live music —whether it's the grand piano at the lobby bar or a full-blown concert. Lastly, the hotel will be home to Feinstein's Cabaret (similar to the famous nightclub in New York), including 158 seats of private dining and big-name performers.
C. Baldwin
Opening Date: Fall 2019
C. Baldwin is a high-end and hyper-localized independent hotel slated for a fall 2019 debut in Houston. Its name comes from the Bayou City's unsung hero, Charlotte Baldwin Allen, who used her inheritance to finance the City of Houston. Not only is the hotel inspired by the "Mother of Houston," the hotel will also be led by a female general manager and showcase interiors by two high-profile design firms with women at the helm (ROHE Creative and Rottet Studio). From stylishly inspired guestrooms, stunning common areas and a signature restaurant – also named after a groundbreaking woman – to a luxury nail salon, curated local retailers, activated green space and 14,000 square feet of state-of-the-art meeting and event offerings, C. Baldwin is upping the ante in Houston's hospitality landscape.
The Otis Hotel, Autograph Collection
Opening Date: February 2020
Austin's first Autograph Collection property, The Otis Hotel, will welcome its first guests in February 2020. The Otis Hotel's overall luxury experience and design are inspired by Austin's very own artists, the city's world-famous music culture, and the neighboring University of Texas. With natural elements incorporated into the design, each of the 191 guestrooms (including 29 suites) will feature unique touches, such as in-room record players allowing guests to select classic LPs from the hotel's carefully curated vinyl library. In addition to elevated and luxurious accommodations and a location in the heart of Austin's vibrant campus district, the property will feature some of Austin's finest cuisine via an array of food and beverage options. These new concepts will take dining in the campus neighborhood to a whole new level. Offerings include an upscale and steak-forward restaurant, Acre 41, as well as the street-level and food-truck inspired Burger Bar Campus and a spectacular rooftop bar, Otopia. Guests of The Otis Hotel will have exclusive access to the 4,000 square-foot rooftop deck, complete with an outdoor pool, cabanas and expansive terrace. The Otis Hotel is part of a dual-branded property with AC Hotel Austin-University, offering 156 rooms and Bar AC, a Spanish-inspired bar and restaurant with an elevated wine program, also welcoming its first guests in February 2020. 
The Clancy
Opening Date: Early 2020
Located in San Francisco's vibrant South of Market (SoMa) district, The Clancy is set to open in early 2020 following a $30 million renovation and rebranding of the former Courtyard San Francisco Downtown. The new hotel is within walking distance of a diverse mix of restaurants, shops and attractions including the Moscone Center, Oracle Park, Union Square, Yerba Buena Gardens and the Metreon Complex. The redesign of the hotel provides guests with an atmosphere focused on art and innovation. The inspiration is reflected throughout The Clancy, including its 410 guest rooms, spacious public spaces and entranceways as well as a two-sided lobby bar. The lobby-facing side features craft cocktails and a lounge atmosphere, while the restaurant-facing side a more casual beer-centric vibe. The Clancy will bring the community closer through its Locally Crafted series of events, making the property a perfect base for exploring and experiencing SoMa. The hotel will also provide guests with an assortment of flexible venue spaces, state-of-the-art tech and expert meeting planning and wedding services.
The Notary Hotel
Opening Date: July 2019
Located in Philadelphia's historic Penn Square, The Notary Hotel, a new Autograph Collection hotel, opened its doors last summer. Located just steps from the Philadelphia Convention Center and Reading Terminal Market, the 499-room property, fuses the city's unique soul with its historic legacy. For decades, the City Hall Annex building was where a Notary's stamp was given to signify the start of a marriage, a business or a new journey. Today, the same building stands with a different service, but with a similar mission: to create notable moments for its visitors. The hotel's design draws on the building's civic roots, while also seamlessly introducing a fresh modern aesthetic.
Notary Signing Bonus: Effective until July 16, 2020 — any guest who can prove that they are a direct descendant of someone who signed The United States Declaration of Independence in Philadelphia in 1776 will receive a "signing bonus" of a free stay throughout the hotel's opening year. Guests must provide proof via a legitimate genealogy research company. And, they must be a lineal (a person who is in direct line to an ancestor, such as child, grandchild, great-grandchild) or collateral (from the line of a brother, sister, aunt or uncle) descendant of a signee.
Kimpton Hotel Palomar South Beach
Opening Date: Fall 2019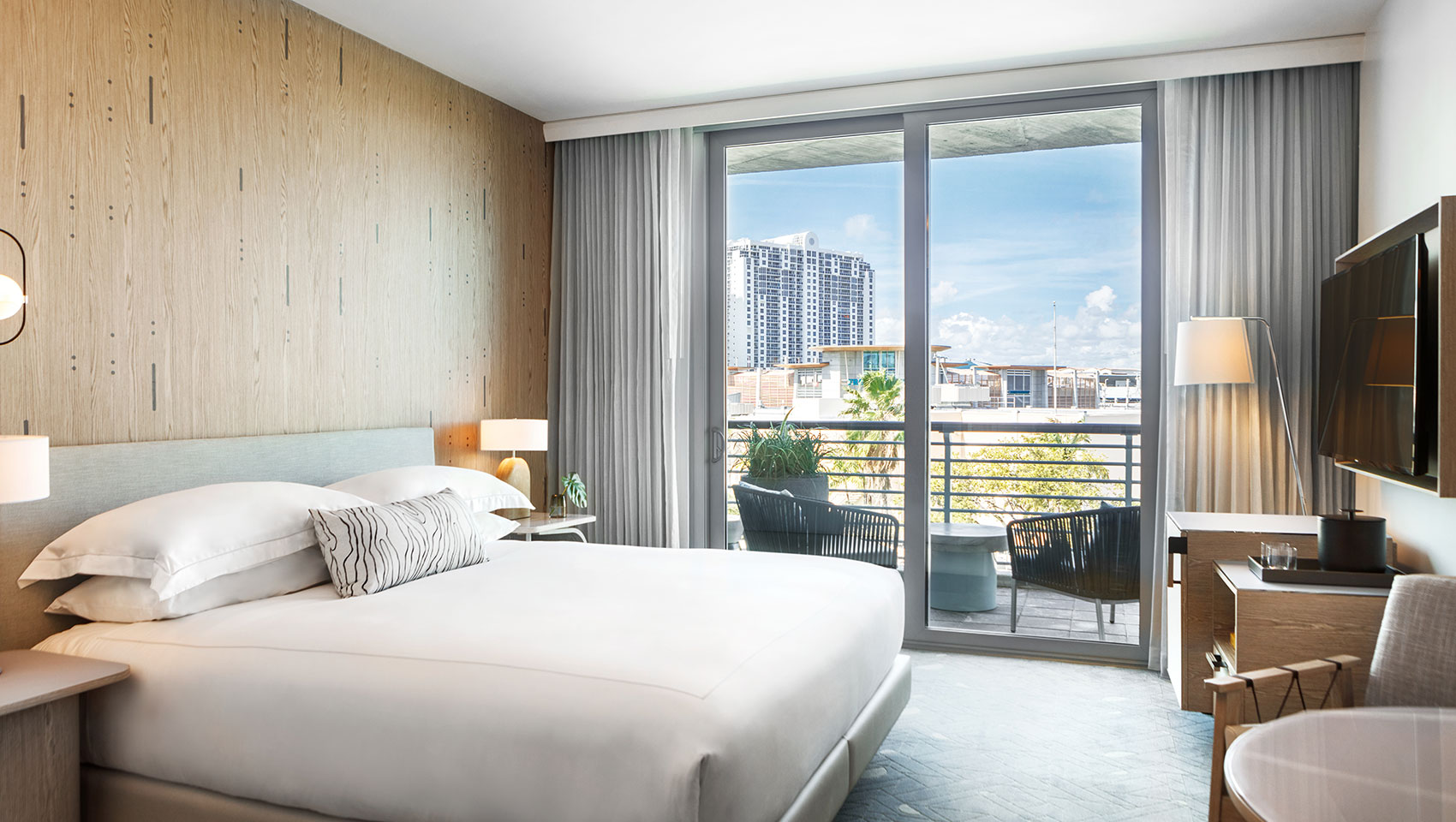 Kimpton Hotel Palomar South Beach is set to welcome its first guests in late 2019. The chic property will be located in the heart of South Beach, a popular international and local destination. Altamarea Group, the renowned New York restaurant Hospitality Group, will run the hotel's food and beverage program. Altamarea will bring its highly popular Osteria Morini brand from Soho to the Kimpton Palomar. The hotel spans five stories with 96 rooms surrounding a spacious central atrium. Meant to resemble the hull of a private luxury yacht, the lobby excites the senses with its custom-built light installations. It is peppered with art displays, including light panels and abstracted shapes. Also, large format fabrics are meant to resemble the ripples of the Atlantic Ocean. Guest rooms feature private balconies available for nearly every guest and design that is inspired by the oceanic environs.