CBD in the Spa
By this point, you've probably heard friends, family or co-workers talking about CBD. That's right – the benefits of this hemp-derived product are reaching the mainstream. CBD boasts unparalleled wellness properties. It has been found to lower anxiety levels, reduce inflammation and aid in skincare. It's looking like 2019 is the year that CBD breaks through once and for all.
But don't take our word for it. Vogue writes: "While clinical research for the therapeutic phytocannabinoid is ongoing, and understanding the natural remedy is key when navigating the space (some brands are derived from different sources, like hemp, while others are purely synthetic), it's proving to be promising—so expect the breadth of CBD-infused products to expand even further in the New Year."
As a result of the growing CBD buzz, spas are getting in on the action, offering CBD-infused treatments that will leave you refreshed and rejuvenated.
CBD Fast Facts
First, a few fast facts about CBD:
CBD stands for cannabidiol, a cannabinoid found in cannabis, like THC.
Unlike TCH, CBD is non-psychoactive. It does have a relaxing effect, but you won't get high from using CBD.
The most common uses of CBD are treatment of chronic pain, anxiety, and epilepsy.
Thanks to the recently passed Farm Bill, CBD cultivation and products are legal in all 50 states and do not require a doctor's prescription.
CBD isn't just for humans! Pets can experience the healing effects of CBD too – check out Therabis, a vet-approved line of CBD pet products.
The US hemp industry is booming, with experts predicting a $1.9 billion market by 2022.
CBD Massage
Sound like something you want to try? A great way to be introduced the wonders of CBD is to head to Park Hyatt Beaver Creek Resort & Spa. The luxury Colorado resort's Allegria Spa recently introduced an indulgent CBD massage, which is THC-free. The massage is for those seeking relief from tight muscles, injuries, or extra stress. It's a deeply moisturizing CBD-enhanced treatment, allowing the cell-communicating CBD to penetrate deep, relaxing the body and mind while restoring equilibrium. You'll get off the table feeling refreshed with the freedom to move.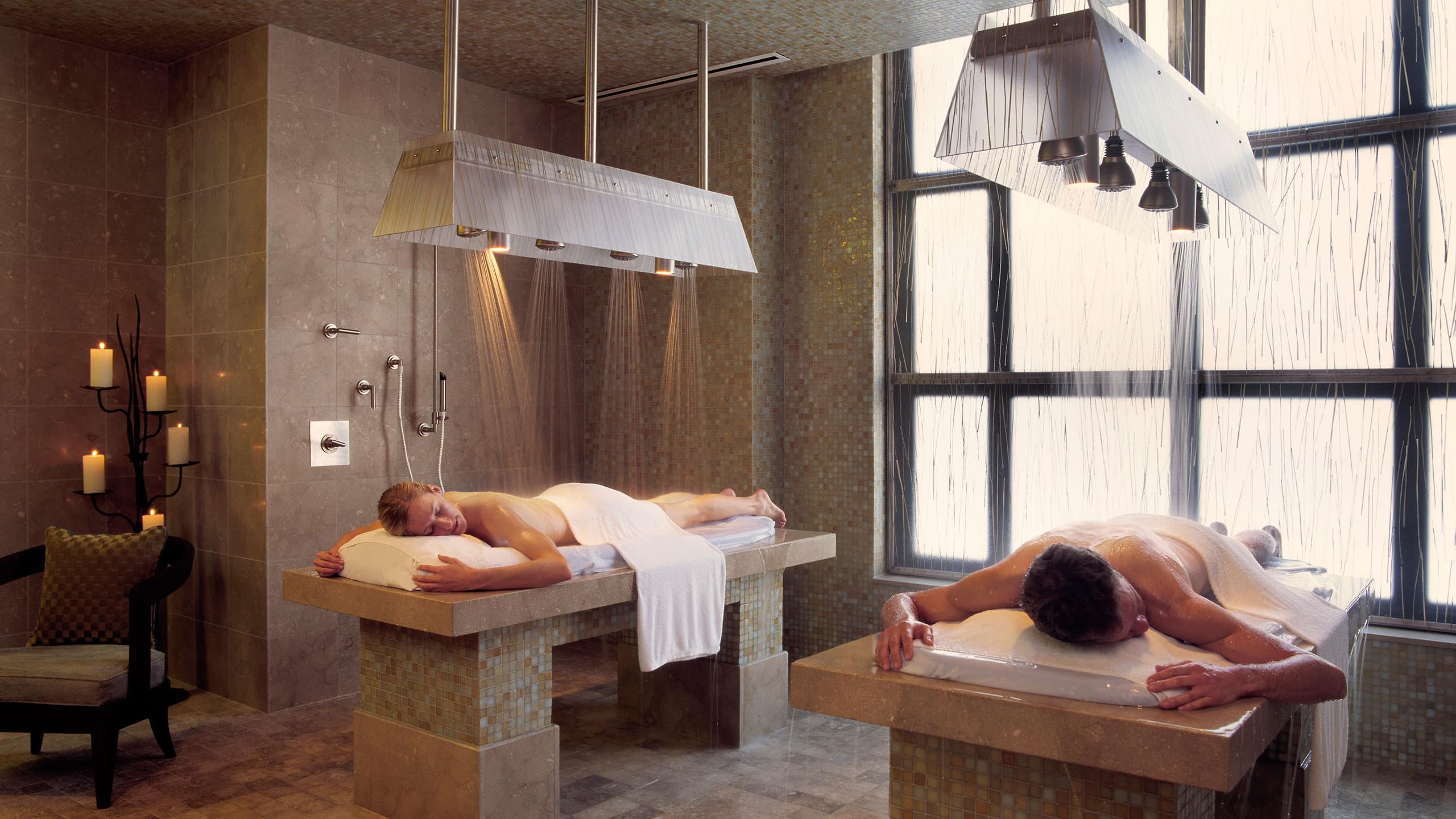 More CBD Spa Options
CBD massages are just the beginning. Spas across the country have introduced an array of treatments. Discover the benefits of CBD hydrotherapy at Los Angeles' Larchmont Sanctuary Spa, which uses a CBD and Epsom salt-infused bath bomb for a rejuvenating soak. The Green Tea Spa in San Diego has gone all in on CBD, offering CBD facials, CBD body wraps, a CBD-infused foot soak and scrub, and even a CBD beverage to kick off the experience.
One thing also worth noting is CBD's massive skincare and beauty potential. Thought to be powerful antioxidants, CBD serums, moisture and balms can battle signs of aging. CBD also contains antibacterial elements as well, which can help with skin conditions, such as rosacea, eczema and psoriasis. Even more, CBD is valuable source of vitamins and adds essential fatty acids, which means less breakouts.
Aceso
For at home CBD use, you can't go wrong with Aceso, a suite of "hemp 2.0" products. Aceso provides general wellness and relief from minor aches and pains, as well as mild-anxiety, available for order online and at major retailers. Products range from a Wellness Drink Mix to a Calm Spray. Aceso is the work of Dixie Brands Inc., the leading consumer packaged goods company in the cannabis space. Since its founding in 2009, Dixie has established itself as the trusted source for innovative, safe, effective and delicious cannabis products, leading to features on 60 Minutes, CNBC, MSNBC, Fast Company and many more.
Interested in learning more about CBD? Get in touch at dixie@turnerpr.com.