2019's Best Diving Destinations
Instead of the cliched New Year's resolutions (losing weight, exercising, saving more money), why not try something really new? Scuba diving is an adventure like no other, offering a glimpse of an underwater world that few people get to experience. The world's best dive sites will take you to some of the world's most beautiful destinations. It's a win-win. Here are a few of your best scuba diving options.
Bermuda: The Shipwreck Capital of the World
With an estimated 300 wrecks, Bermuda is a prime dive destination. There's so much to see below the water, including reef sites full of aquatic life. This unique diving experience is unlike most because of its close proximity to shore. Most of the shipwrecks are just 30-70 feet off the coast. As a result, they're easily accessible to guests who want to see the mid-Atlantic island from a different perspective.
South Walton, Florida: An Underwater Museum
Dive into a whole new world filled with art and culture off the coast of South Walton, Florida. The new Underwater Museum of Art features seven permanent art installations. It also encourages the development of marine life in the area. This one-of-a-kind diving experience allows you to not only experience a museum under 50-60 feet of water but also see habitats as they develop.
Grand Cayman: Crystal Clear Waters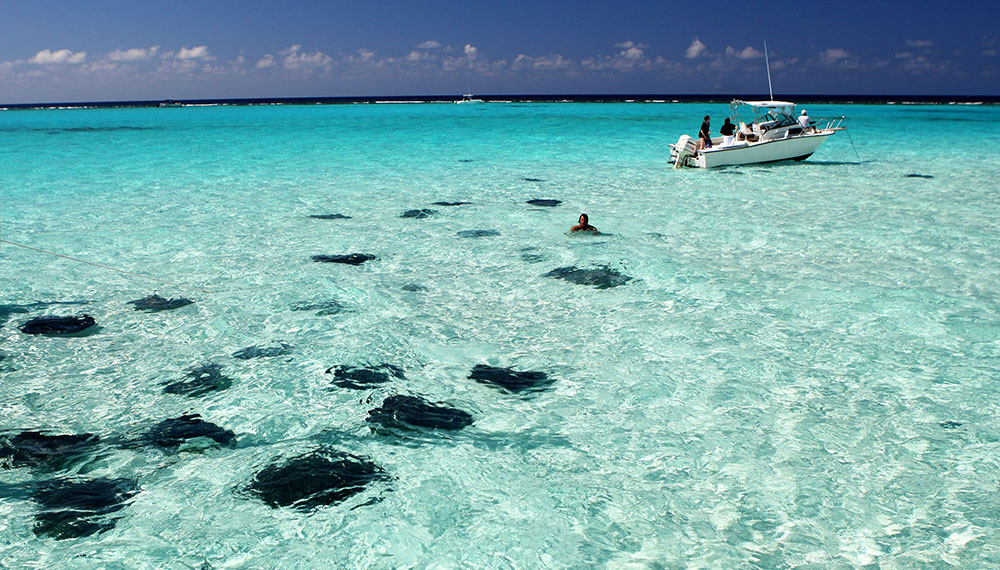 With over 365 dive sights, Cayman invites guests to dive through the crystal clear waters. You'll explore the Kittiwake Wreck, artificial reefs, wall diving, Stingray City, and more. Kimpton Seafire Resort + Spa ensures that all guests can dive right in. Red Sail Sports will pick divers up right on the beach. Then, you'll see some of the most amazing diving locations in the Caribbean.
Cozumel: The Mesoamerican Barrier Reef
With a privileged location close to the Mesoamerican Barrier Reef, Cozumel and scuba exploration go hand-in-hand. The rich concentration of marine life in the area attracts adventuresome divers year after year. There's no better place for a budget-friendly diving vacation than at Allegro Cozumel. This recently renovated all-inclusive resort provides an array of experiences both above and under the sea, all under $200 per night. Enjoy a unique night diving tour bookable via the property's on-site dive shop. You'll see various creatures that hide from the daylight.
Good to know: Allegro Cozumel's Ultimate Dive Experience Package caters exclusively to avid divers and includes one free boat dive and tank per day for up to three divers (additional tanks at a special rate), accommodation at an exclusive section of the resort close to the beach, as well as additional perks.
Belize: The Great Blue Hole
Belize is most well-known in the dive community for the famed Great Blue Hole, a UNESCO World Heritage site. Take this experience up a notch with Victoria House's heli-dive where you'll be able to marvel at the site from the air and under the water all in one shot. You'll leave from the resort's helipad to enjoy miles of unspoiled beauty as you wind across the Belize Barrier Reef System to view secluded islands, mangrove-covered cayes, and diverse marine life. Disembark at a private Caye, where a waiting boat will whisk guests away to diving at three amazing sites: Great Blue Hole, Half Moon Caye, and The Aquarium.